2021 Mentor Reports
Mike Garceau December 4, 2021
Mike Garceau and I finally made it out for our mentoring session.
Mike grew up spin fishing in the Midwest and took up fly fishing about 3 years ago. He had all the basic equipment and has caught one fish on a dry fly in West Virginia.
We met last Saturday on the Gunpowder at York Rd around 10:00. It was a relatively warm day that was partly cloudy. Flow is was 40 cfs and mid 40's.
We started out going over basics of the stream, weather, insects and moved on the rigging, leaders, tippets and knots.
Around 11:00 we headed upstream past the route 83 section and areas with trees down. On the way we discussed locations of fish and feeding lanes. Found some nice open water along the curves and bends to practice upstream presentations of nymphs. Started with an indicator rig and two flies - beadhead brightly colored perdigon and an unweighted black midge pattern. Tried a few other nymph patterns with various casting techniques and with particular attention to drifts, up and downstream mends and some high sticking.
We tried for about an hour and a half with no luck. I had tied on a small cicada for fun and visibility with a dropper to show some casts and drifts and actually had a medium size fish come up to try and take it.
We then started downstream with a variety of soft hackles of various sizes to demonstrate that technique. Finally ended at the run below the logjam near the route 83 bridges. Here we tried on a dry dropper rig with a large parachute Adams and a small pheasant tail. Mike did a nice job of casting and had good drifts that produced a nice take and set but ended as an LDR.
Overall it was a good outing and I think Mike enjoyed it and learned a lot, despite no fish.
Craig Vanderkolk
Joey Hipolito October 18, 2021
Mentoree: Joey Hipolito
Mentor: Bob Kaiser
When: October 18, 2021 Approximately 10:15-1:00 in the water
Where: Gunpowder upstream of Masemore Rd
Flow: 35 cfs
Insects: almost none - a smattering of midges and maybe 4 tan caddis #14
Conditions: 50 degree gin-clear water, 53 degree air, cloudy with 10-15 mph winds
Fish caught: 1
We had a good conversation about fishing and fly fishing on the 50 minute trip to the GP. Joey had just the prior day attended the Seneca Valley TU FF 101 class, and had picked up a number of good skills and concepts. Today was his first "real" wade fishing trip. He had just recently purchased all his gear and was eager to go and learn.
After gearing up and discussing leaders, tippets, flies types and sizes, protecting the rod, and knots, we hiked upstream to within sight of the Falls Rd bridge before entering the water. We started off with wet flies, swinging a #16 pheasant tail wet in the slow currents. He used only one fly to avoid unnecessary tangles. Joey caught his first fish on a fly rod within 30 minutes, a 4" brightly colored brown. No more luck on the PT wet, so switched to a hare's ear wet. No luck. We then found ourselves within 100 yds of the hemlock heritage area, and switched to nymphing with an indicator, hanging a #14 bead head hare's ear beneath the thing-a-ma-bobber. He nymphed down to the hemlock corner with no hits. We then headed back to the car for lunch, a discussion about fly types (wet, dry, nymph, streamer) and how to fish each of them. I gave him an assortment of nymphs, San Juan worms, egg patterns, and green weenies for his next trips.
If its any consolation, none of the 3 other fishers we spoke with had any hits, let alone fish to net.
Ray - sorry, my camera's pics did not record properly, so I have no pics. I also managed to break the tip on my rod when I tripped over a log and rod tip hit the ground. So much for "protecting the rod"!
Look forward to another mentor trip
Bob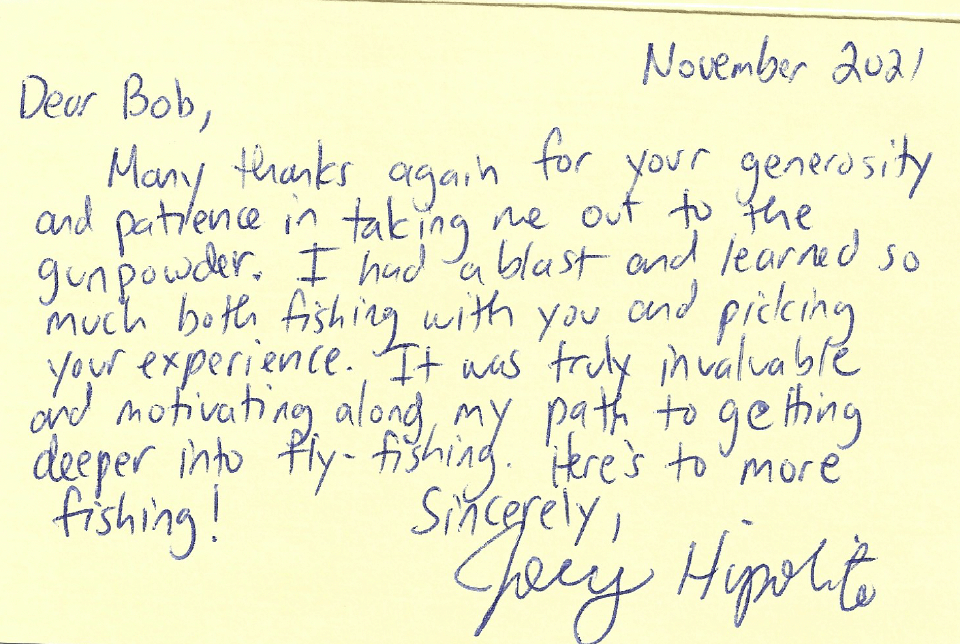 Don Archer October, 2021
At the end of a week in October, Don Archer and I finally met up to fish the Little Patuxent at Savage Mill. The creek had recently been stocked the week or so prior and I figured the chance of getting into a few fish was still pretty good. I couldn't have been more wrong! Anyway, Don must have been enjoying himself because the half day we had scheduled turned into about 9 hours of learning, casting practice and stalking fish.
We covered lots of basic topics from gear setup to knots and presentation. Don got a lot of casting practice in that day and after a few hours there was a major improvement in his casts. After some careful instruction he started to get the feel of his fly rod and how to accurately present his fly. We started off fishing right behind the old mill. Usually one can find a few leftover fish sitting in the deep pool by the first water fall. Nada. We fished the stretch behind the mill for a while and then decided to work up stream. I located a nice run into a deep pool that held a few fish but they were a bit spooked and wanted nothing to do with anything we tossed at them. Don still had fun trying and picked up some presentation options when fishing the type of water we were in. At least one fish seemed to slash at his fly on one cast which provided some excitement. I felt bad that we didn't hook up, but Don said he enjoyed the day and learned a lot.
I followed up with lots of informational links on casting, flies, knot tying, etc. with the idea that he could practice a bit more before his next outing. I also volunteered to take him out again so we could get some fish on the end of his line. It was a nice day overall and neither of us really missed work that Friday.
Bob O'Donnell
Deb Fagan May 6, 2021
I met up with Deb Fagan this a.m. at BHC for a mentoring session. We started off at the bridge pool, which I knew from recent trips, would probably not be holding too many fish, but it was a good place to work on some casting and technique. After a short walk downstream mostly just to drop in and see some of the pools, we headed up to the Smoot, where I knew there would be some active risers. It was a shame they weren't active recipients of our varied offerings of dries, wets, and emergers, but it was a good exercise in fly selection. As we moved up stream, we came to some deeper pools, and not wanting to disappoint, it was time to work on some nymphing skills with the San Juan, and on to the board with two colorful brownies!
Deb was a very eager student and a pleasure to fish with, and I'm sure she will be back to the stream soon for more success.
Joe Robinson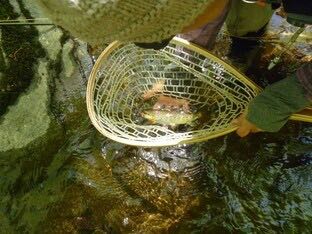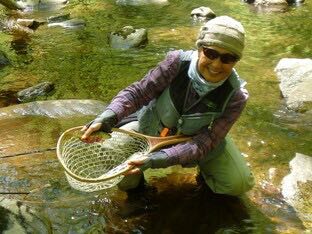 2019 Mentor Program Report
In 2019 6 members listed in the table below were tutored at the Little Patuxent, Morgan Run, or the Gunpowder. First timers received a copy of the Maryland section of the now defunct Mid Atlantic Fly Fishing Guide and a 4 page summary on entomology. This introductory material provided the newcomer with an idea of what flies to use at any given time and general information on identifying insect types. Knot tying was discussed showing two basic knots; the surgeons knot (and surgeons loop) for tying or connecting tippet to leader and leader to line and the improved clinch knot for tying flies to tippet. Different types of leader (the standard 7.5´ 3x nylon tapered leader as described by Jay Sheppard in A Simple Trout Leader System, the Orvis braided leader, the Furled Leader, and the Airflo PolyLeader) were discussed to show them alternative setups. For those with their leader connected to the fly line with a nail knot or to a nylon butt section with a loop, the Cortland braided loop was shown as an alternative for line to leader loop to loop connections. Tippet size was also briefly discussed using the general rule of hook size divided by 3. Thus, 4x tippet is used with size 12 flies while 6x tippet is used with size 18 flies. A brief time was spent on the stream turning over rocks to show some insect life in its early stages. For those with no casting experience, basic casting techniques were shown. On the stream, casting variations including the sidearm cast and the roll cast were demonstrated to avoid overhanging trees and brush behind you. Basic short line nymphing techniques with a strike indicator and/or dry fly fishing techniques were demonstrated. Line mending was demonstrated to insure drag free fly presentation. A combination rig was also demonstrated and/or discussed using a dry fly such as an elk hair caddis or royal wulff along with a bead head nymph. The bead head nymph is attached as a dropper fly on about an 18" to 24" piece of tippet tied to the bend of the dry fly hook using the improved clinch knot. With this setup, the dry fly acts as a strike indicator to detect when a fish takes the bead head nymph. Two dry flies, two nymphs, and a streamer with a dropper nymph combination were also mentioned along with the advantages and disadvantages of these combination rigs.
| | | | | | |
| --- | --- | --- | --- | --- | --- |
| Member | Dates | Streams | Fish Landed | Fish On | Insects Observed |
| Bryan Sirotkin | 3/8/19 | Little Patuxent |  3 | 5 | A black sedge |
| Chuck Ridgely | 3/18/19 | Morgan Run |  1 |  Several Strikes | Few midges |
| Peter Schuler | 5/28/19 | Gunpowder |   |   |  A few sulphurs and midges  |
| Josh Crotty | 6/5/19 | Morgan Run |  2 |  2 | Some crane flies |
| Peter Schuler | 6/26/19 | Morgan Run |  6 | Several Strikes  | A few beetles and midges |
| Rex Wingerter | 7/1/19 | Gunpowder |   |   | A few caddis & a couple sulphurs |
| Yusra Ahmad | 7/5/19 | Gunpowder |   |   | Few bugs |
| Josh Crotty | 7/15/19 | Gunpowder |   |   | Few caddis |
| Josh Crotty | 8/14/19 | Gunpowder |  1 | 1  | Few bugs |
| Yusra Ahmad | 11/2/19 | Morgan Run |   |   | Few bugs |
Mentor Program Photo Album
The following photos were taken over the past few years during some of the mentoring sessions.